There has been a lot of conversation around the dreaded heat damage. Let's dive right into it. Heat damage is caused by excessive heat on your hair. I know that most naturalistas have that one day that they want to straighten their hair and expose their true length because we all know #theshrinkageisREAL. But we can't avoid the fear of getting heat damage to our glorious crowns. This blog post is for those who are currently devastated by the heat damage that they are dealing with.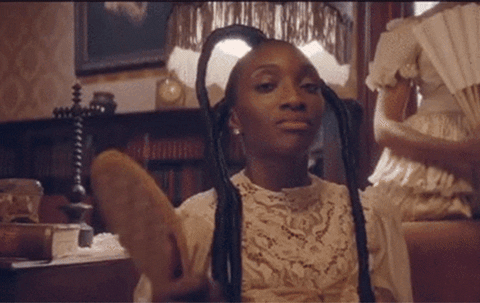 The good thing about heat damage (yes, good thing) is that to a certain degree it is reversible. Your hair is made up of three types of bonds that complete its structure. Disulfide bonds, salt bonds and hydrogen bonds. The strongest being your disulfide bonds. These can only be broken/manipulated by excessive heat or chemicals. Once they've been altered there is no reversing it unlike your salt and hydrogen bonds. I suffered from heat damage before and it was worse than I thought. I committed to no heat for a year and that year turned into two. Here's what else I did:
1. I had gotten rid of my blow dryer, my flatiron and curling irons. I was done.
2. Then I started being patient with my hair. My maintenance routine got serious and consistent. I took my time with deep conditioning, I would cowash, ACV rinse my hair (once a month) and I utilized Crown Growth Oil-Almond Edition because unlike the original blend it does not have coconut oil but premium organic sweet almond oil for its magnesium which is great for growth but it also has an increased presence of therapeutic Jamaican black castor oil. JBCO is a POWERHOUSE of nutrients vital for healthy and strong hair. I was diligent in including it in almost every step of my maintenance process. This included using it in my deep conditioning treatment and applying to my hair during the loc method only I would stop after applying Crown Growth-Almond Edition because it's an incredible sealant, prepoo treatment and scalp massages. Two strand twists were my go-to style.
3. Speaking of which, get accustomed to low manipulation protective styles. No tugging and pulling styles. I forced myself to be ok with looking like Ms. Cealy under wigs or wraps until I figured out how to get these styles right. I wore twists for so long. But my hair bounced back!
4. Last but surely not least, hot oil treatments. Use our Crown Growth Oil-Almond Edition, if you haven't guessed it by now this formula is specifically for rehabilitation. You want to do at least one hot oil treatment every month and after about 2 or 3 months I would recommend reassessing your hair and cutting the irreversible damage.
Try to adhere as closely to this guide I like to use and recommend ALL OF THE TIME, you can find the details of each step in our post The Bomb Hair Maintenance Routine among others that you'll find very helpful.
Let's all raise our hands and send energy of healing to our fellow Queens. Until next time..
Peace and Blessings...
#hairtreatment #hotoiltreatment #lcomethod #locmethod #prepoo #hairoil #naturalhairoil #hairproducts #frizzyhair #hairmoisturizer #haircare #psoriasis #curlyhair #blackhaircare #blackhair #naturalhaircare #naturalhairmoisturizer #naturalhair #dryscalp #naturalhairproducts #hairgrowthoil #dryhair #heatdamage #hairheatdamage #blackhair #naturalhairproducts #bigchop #CrownGrowthoil #deepconditioning #naturalhaircare #organichaircare #4Chair #AfricanAmericanhair #bestwaytogonatural #veganhairproducts #transitioning #tractionalopecia