In the words of the wise Deion Sanders, 'if you look good you feel good and if you feel good you play good...' (or something like that). And I'm not saying looks are everything but when your hair is bomb your inner Sasha comes out to slay.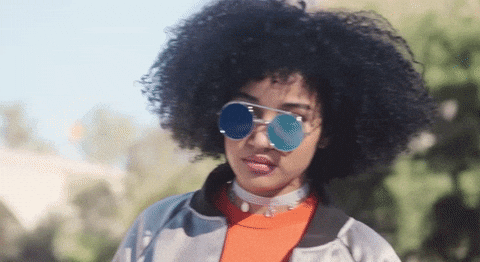 Queens compliment me on my twistout all of the time and until my best friend allowed me to do her twistout she was convinced I couldn't define her coils and it wouldn't last. One thing you must know about me, I LOVE BEING RIGHT (lol). Needless to say she was pleased and even more so that her hair was still moisturized a week later. So I am going to let you in on a technique I use to achieve the PERFECT TWISTOUT.
Step 1. Start with freshly conditioned hair, section your hair in a 2x2 inch  section (or however big/small you want the twist
Step 2. Apply a generous amount of a water based leave-in conditioner to the section
Step 3. *THIS IS IMPORTANT*detangle and then stroke/massage your hair until the coils/curls begin to come together forming defined coils/curls
Step 4. *THIS IS ALSO IMPORTANT* take a dime size of Crown Growth Oil (or Almond Edition) and apply it to your hair stroking/massaging it the same as in Step 3. This not only ensures even distribution but also allows product penetration into the shaft (friction=heat=open pores) and preps the definition of the coil/curl. If your hair has a low porosity this is a crucial step. If it is high porosity I recommend our Almond Edition, the increased presence of our therapeutic Jamaican black castor oil operates as an amazing sealant and nutritional value add. 
Step 5. Separate section in two and begin your twist.
Repeat these steps until you have finished your entire head and allow to dry overnight or sit under hooded dryer (I recommend overnight dry because less heat is better for growth). DO NOT unravel if you can still feel that they have not fully dried.
Alright to the fun part !
Step 1. Apply a small amount of Crown Growth Oil (or Almond Edition) to your twists (I just pour it in my palm and rub it down my twists all together)
Step 2. Unravel the twists all over your head gently and carefully
Step 3. *ANOTHER IMPORTANT STEP* Take one subsection (of the two in a single twist) and turn it counterclockwise allowing you to see the defined areas of the section. This will help guide you on where to separate
Step 4. Separate from the ends and gently tug apart (but if it doesn't separate all the way down to the root it's ok)
Repeat for all subsections of your twists
Step 5. Take a wide tooth pick and lift midway down from the root upwards gently (the pick should only move about a half inch up each time)
By now you'll see really defined and juicy coils/curls all over the place. Usually my hair doesn't 'shape' into a fro until I arrive to work (about 15-30 minutes after I pick it).
You are going to LOVE your results. Post a pic and tag us (@QueensMagicHair) in it so we can feature you on our site with your PERFECT TWISTOUT! Share and COMMENT below as well, until next time Queens, peace and blessings…